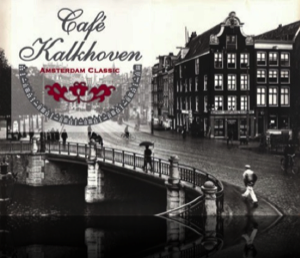 Cafe Kalkhoven, an Amsterdam Classic
Café Kalkhoven is one of the oldest cafes in Amsterdam. The place opened in 1670. Many items in the bar are still authentic, especially the barrels behind the bar.
The bar offers lunch as well, seven days a week from 11 am to 4 pm. Try our sandwich with a homemade meatball or our Croque Monsieur Kalkhoven style.
And of course you should try one of our wonderful beers. There are several draught beers available, like Heineken, Palm, Aflligem Blond, Affligem Double, Wieckse Witte and often a seasonal beer.
Where is Cafe Kalkhoven?
Café Kalkhoven is located at the corner of 'Westermarkt' and 'Prinsengracht'. It is in walking distance of Dam Square, Anne Frank's House, Rozengracht, 'nine streets' shopping area and the old Jordaan district.
How to get there?
Café Kalkhoven can easily be reached by public transportation. There's a tram stop in front, called 'Westermarkt'. Trams stopping here are line 13, line 14 and line 17. There is a taxi stand at Westermarkt as well.
Got something to celebrate?
If you have something to celebrate, it is also possible to come to Café Kalkhoven. There is a separate part of the café available for private parties, even on Saturday evening.
For inquiries or reservation call us at: +31 20 624 8649 or send us
an e-mail
.
Opening hours:
Lunch: seven days a week from 11 am to 4 pm.
Café: Monday through Thursday from 9 am to 1 am.
Friday and Saturday from 9 am to 2 am.
Sunday from 10 am to 10 pm.
Prinsengracht 283 - 1016 GW Amsterdam - +31 20 6248649